It is now accepted in the letting industry that the only effective way to ensure electrical safety, and to avoid the risk of being accused of neglecting your 'duty of care', or even of manslaughter is to arrange an inspection and a satisfactory NICEIC certificated condition report.
Bailey & Birch have recognised all of this and have put together a unique service whereby we not only survey wiring and test appliances but can also repair or upgrade any system so that it may meet with current standards.
Our surveys are accurate, unbiased and open to audit by The NICEIC and give clear unambiguous information in an understandable form together with straight forward recommendations.
Our mangers are always on hand to provide further information and to arrange convenient appointments for inspections or any other of our unparallelled services.
Please contact us today for more help making sure your electrical safety in your tenanted property is compliant with the Landlord and Tenant act – or you can call us on 0151 639 3005 for the Wirral, 01244 382034 for Chester & 0151 207 4404 for Liverpool – for prompt and knowledgeable advice or help – we will also be able to give you an idea of costs involved for your property.
* The Landlord and Tenant Act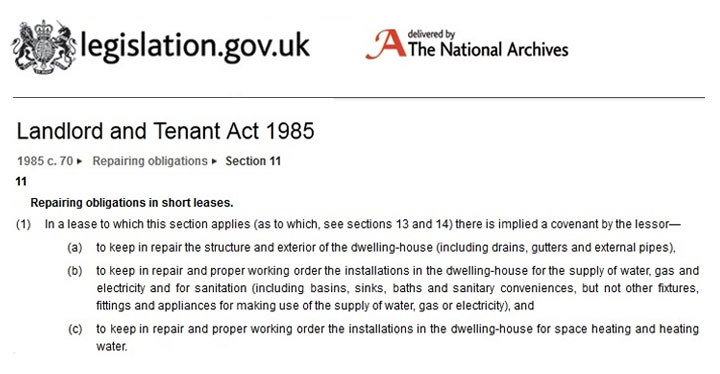 The Landlord and Tenant Act 1985 states that a Landlord is responsible …. "to keep in repair and proper working order the installations in the dwelling house for the supply of water, gas and electricity…."
Additionally The Electrical Equipment (Safety) Regulations 1994 require that equipment be safe and in conformity with the principle elements of the safety objectives for electrical equipment set out in section 3 of the Regulations.
BS7671:2008 as amended is the UK Standard for electrical installations and requires that all electrical installations be periodically inspected and in the case of Rented Dwellings be inspected upon change of occupier.
A Landlord has a duty of care and may have an implied covenant with the tenant, therefore it is essential he or she has speedy access to a dedicated and efficient expert who can quickly carry out all the necessary checks and issue an appropriate certificate.
Part P of the Building Regulations 2005 effectively makes unlawful any unregistered electricians or DIY electrical work.
Electrical Safety – Local Council Requirements
A Council will request that a Electrical Installation Safety Report be provided to ensure that the whole of the electricity installation is in good condition. Any remedial works identified in that report will have to be undertaken as a matter of urgency to ensure the health and safety of the tenants is not compromised. This Report will have to be updated after a 5 year period has expired.
The Landlord Tenant Act
A Landlord has a legal responsibility in UK Law to ensure the electrical systems in a dwelling are confirmed as being safe. The only realistic way to achieve this is to obtain an electrical certificate for the fixed wiring system and to PAT test any appliances
Fire Safety
The chances of fire occurring in a HMO is far greater that that of a normal single family house. That risk is even more acute in properties where there are more than three stories. The landlord must therefore ensure that the tenants are adequately protected in the event of fire. This means providing them with a means of receiving early warning about the fire, and ensuring that there is a safe escape route from the building.
Early warning is achieved with audible fire detection. This means the installation of an electrical interlinked fire alarm system. Below is a description of a typical fire alarm specification for a three story house which has been converted into self-contained flats. All systems must be compliant with British Standard 5839: Part 6.
A Grade A system has to be installed to all circulation areas, and those rooms immediately adjacent to them. This should include the fitting of optical point type smoke detectors conforming to BS5445: Part 7 to the following areas:  Each landing level within the staircase enclosure All entrance lobbies within flats Fire alarm sounders are to be located within flats, preferably within the flat entrance lobby. The sounder may be integral to the smoke detector located in the flat lobby. The sounder must be loud enough so that it can be heard at a minimum level of 85 db at each bed with the door closed. The sound frequency should lie between 500Hz and 1000Hz. Manual call points of the break glass type conforming to BS5839: Part 2 are to be installed located at around 1.4m from ground level, in the following areas: At each landing level within the staircase enclosure Adjacent to the main entrance door.
All devices are to be interlinked and connected in circuit to control and indicating equipment (fire alarm panel) that conforms with BS5839: Part 4 which should be designed, installed and serviced in accordance with BS5839: Part 1. A power supply backup capable of maintaining alarm for 15 minutes upon failure of the mains supply. All wiring to be in accordance with BS5839: Part 1 and I.E.E. Wiring Regulations. Grade D system to be installed within the dwelling units. This system is to include the installation of point heat detectors of the rate of rise type in each flat kitchen. These detectors are to conform to BS5445: Part 5 or Part 8 and be mains powered with battery back-up. The detector need not be interlinked to the Grade A system.
Please contact us today for any help you need to make sure you fully comply with this section of the Landlord & Tenant act – or call us on:  0151 639 3005 for the Wirral Areas,  01244 382034 for Chester & 0151 207 4404 for Liverpool – for prompt helpful advice and affordable pricing.
You should check with suppliers that all the components described in the system are compliant with any of the relevant British Standards mentioned. You will be required to provide certification from the installing engineer that those requirements have been satisfied.
To ensure that tenants can exit the building safely there must be a number of measures in place to make sure that the escape route, usually the staircase enclosure, is protected from the fire and smoke, is adequately lit and is kept free from any obstacles that could hinder escape. Separation between the flats, including walls, floors and ceilings must also be protected to slow the spread of fire and to protect tenants should the escape route be compromised.
The first level of protection is the structure itself. Generally speaking the solid brick walls of the house will resist fire for the required amount of time, which is 30 minutes. However the same cannot be said for studded partition walls, or old style lathe and plaster ceilings. These elements must therefore be upgraded to ensure that they too offer the same level of fire resistance than the rest of the structure.